Experts in late model Mustang
racing parts & custom race builds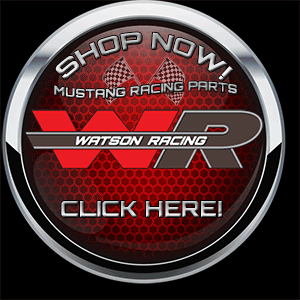 Watson Racing specializes in late model Mustang racing parts, drag race and road race car builds for all makes and models. Located in Southeast Michigan, Watson Racing is a full-service operation; from machine to the race track, Watson has you covered with engineered performance! Watson offers its own brand of mustang racing products, as well as, Ford Performance Racing Parts & Edelbrock E-force superchargers online at shop.watsonracing.com.  Watson Racing offers decades of technical racing knowledge, complete race car builds, fabrication skill, dyno tuning, track support and more, all backed by numerous race awards and records. If you need some assistance with your race vehicle and want top-of-the-line drag race or road race car experts, call the professionals at Watson Racing!


Watson Racing is proud to be an integral part of the 2015 Mustang S550, Cobra Jet and, Mustang Boss 302S Ford Performance race car programs. Watson works closely with the Ford Racing Engineers to build and supply many parts for the Cobra Jet, 2015 Mustang S550, Boss 302 R/S, and S197 racing builds, parts for prototype and testing.

The experts at Watson can build cars from scratch or upgrade your current race or street car. Watson produces its own line of chassis and suspension components, builds and installs roll cages and safety systems. In addition, tuning services are available – not only will Watson Racing build and improve your vehicles performance, Watson can validate the horsepower and improvements.
---
* FEATURED SERVICE – RACE DYNO TUNING * 
Watson Racing specialists have over 25 yrs experience, now available to the public for:
In ground chassis dynamometer facility –

EFI or Carburetor Dyno Tuning:
$200/hour
(1 hr min)
EFI Tuning Package:
(Includes SCT Tuner + 2 hours dyno time)
$695
Power Pulls:
$150 for 3 pulls
Diagnostic/Mechanical Services:
$ 85/hour
[ READ MORE ]
---
* FEATURED PRODUCT – 2015 MUSTANG RACING ROLL CAGE *
2015 Mustang 4-Point Roll Bar: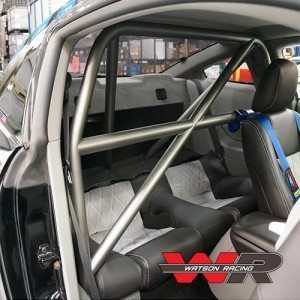 Quite simply the finest 4-point Mustang bar on the market! Borrowing from our exceedingly popular S197 4-point roll bar, we brought the same design principals into the new S550 2015 roll bar.

Quick-In and Quick-Out design.

 Perfect for those of you who are part-time racers and don't want a full-time roll bar. Uniquely-engineered Watson's bolt in roll cage mounting system stays hidden and mounted in the car. Unbolt the roll bar from INSIDE your car for quick removal and re-installation. Mustang bolt in roll cage serves multiple purposes, it protects the passengers in the event of a crash, provides a stronger Mustang chassis and enhances the uni body structure to get the most power available for your race car. Watson is proud to provide offer this top of the line custom fabricated bolt in roll cage that is second to none.
---
Watson Racing – Additional Race Services – Drag Race & Road Race
Roll cage fabrication
4-link fabrication
Track support / Race prep
Engine upgrades
Cobra Jet & Boss 302S / Boss 302R service & parts
Custom headers & custom exhaust
S550 2015 Mustang Race Parts
Watson Racing S550, 2015 Mustang Build. Just the right blend of power and safety features as well as shedding weight to make it a drag strip dominator, yet very comfortable and street legal. [ Check out the Build Video ]
Power Automedia interviewed Watson Racing and Tremec on Watson Racing 2015 Mustang SEMA Show project build
[ INTERVIEW VIDEO ]