Experts in late model Mustang
racing parts & custom race builds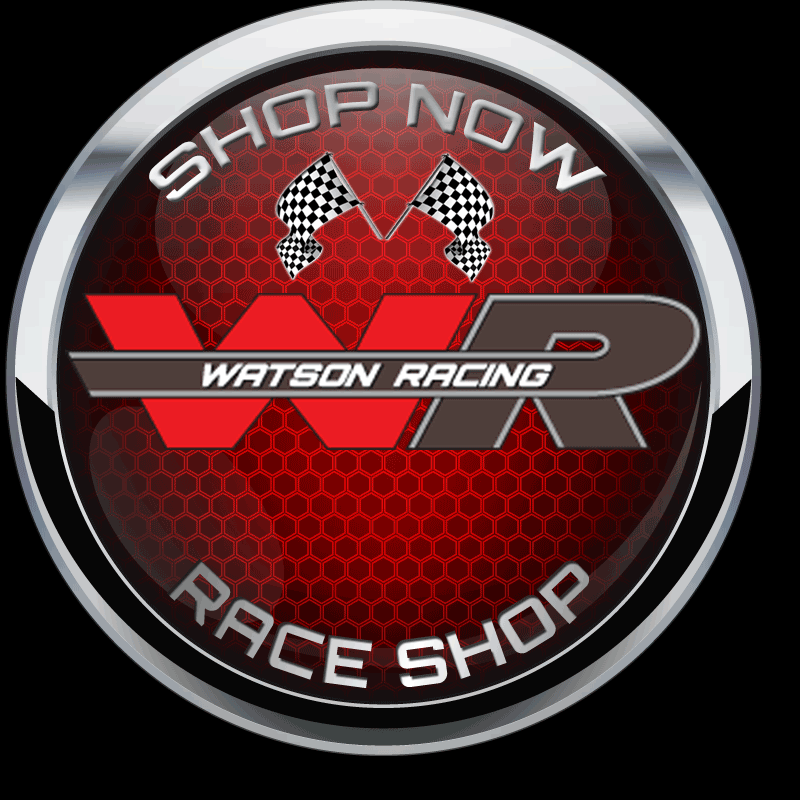 Watson Racing specializes in late model Mustang racing parts and custom drag or road race car builds for all makes and models. After quietly building race cars for decades, 2013 proved to be a ground-breaking year as Watson Racing lifted the veil opening its race shop doors in Southeast Michigan to the world. Watson Racing is a full-service operation, offering its own line of authentic fabricated race parts.  Further, Watson Racing offers decades of technical racing knowledge, complete race car builds, fabrication skill, dyno tuning, and track support, all backed by numerous race awards and records. If you need some assistance with your race vehicle and want top-of-the-line drag race or road race car experts, call the professionals at Watson Racing!


Watson Racing is proud to be an integral part of the 2015 Mustang S550, Cobra Jet  and, Mustang Boss 302S  Ford Racing race car programs. Watson works closely with the Ford Racing Engineers to build and supply many parts for the Cobra Jet, 2015 Mustang S550 and the Boss 302S racing builds, parts for prototype and testing.

Watson Racing offers its own brand of mustang racing products, as well as, Ford Racing Performance Parts & Edelbrock E-force superchargers online at shop.watsonracing.com.

Watson Racing offers nearly every aspect of vehicle services for almost every application. The experts at Watson can build cars from scratch or upgrade your current race or street car. Watson produces its own line of chassis and suspension components, builds and installs roll cages and safety systems. In addition, tuning services are available from experienced staff using dynojet dynomometer and SCT software- not only will Watson Racing build and improve your vehicles performance, Watson can validate the horsepower and improvements.
---
* FEATURED STORIES – 2015 MUSTANG RACE CAR BUILD*
Watson's Award-Winning 2015 Mustang Debuts at SEMA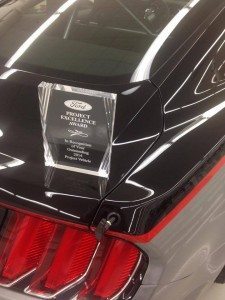 For the third year in a row, the Ford Mustang was voted the Hottest Car at SEMA, (Specialty Equipment Market Association) show in Las Vegas.  Ford Motor Company rocked the house with a barrage of 2015 Mustangs in the show, working with top builders to showcase over a dozen custom Mustangs for the event. Watson Racing was thrilled to complete its' own unique build in only 6 short weeks.
Watson Racing created the ultimate street/strip cruiser.  Just the right blend of power and safety features as well as shedding weight to make it a drag strip dominator, yet very comfortable and street legal. [ Check out the Build Video ]
Ford Motor Company presented Watson Racing with an Outstanding Achievement Award for the 2015 Mustang SEMA Build Project.  
Power Automedia interviewed our own Patrick Lee and Tremec's Kevin Ryan about the Tremec Transmissions Magnum XL trans swap we did in our 2015 Mustang Sema Show project.
[ INTERVIEW VIDEO ]
---
Watson/Holbrook Cobra Jet Named one of Muscle Mustang's Hottest Mustangs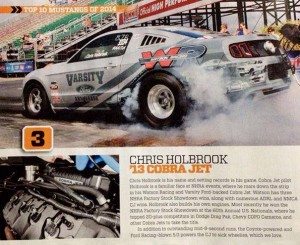 The new issue of Muscle Mustangs & Fast fords Magazine lists the top 10 hottest mustangs.
We are honored that Holbrook Raxing Engines / Watson Racing Cobra Jet came in #3!
---
* FEATURED SERVICE – CHASSIS DYNO TUNING * 
Watson Racing specialists have over 25 yrs experience, now available to the public for:
In ground chassis dynamometer facility -
EFI or Carburetor Dyno Tuning:
$200/hour
(1 hr min)
EFI Tuning Package:(Includes SCT Tuner + 2 hours dyno time)
$695
Power Pulls:
$150 for 3 pulls
Diagnostic/Mechanical Services:
$ 75/hour
[ READ MORE ]
---
* FEATURED PRODUCT – 2015 MUSTANG RACING ROLL CAGE *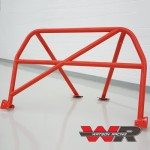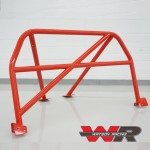 Our 4-point Roll Bar is now available in GLOSS RED! You spoke, we listened. The beautiful gloss red finish is an excellent match to the Laguna Seca red X-brace, as well as Race Red and Torch Red. If you are one of the few that are not yet familiar with this awesome 4-point, please be sure the read all of the details on one of our websites! Quite simply the finest 4-point Mustang bar on the market. After extensive engineering, Check out all the facts that makes Watson Racing 4-Point different!
Quick-In and Quick-Out design.
 Perfect for those of you who are part-time racers and don't want a full-time roll bar. Uniquely-engineered Watson's bolt in roll cage mounting system stays hidden and mounted in the car. Unbolt the roll bar from INSIDE your car for quick removal and re-installation. Mustang bolt in roll cage serves multiple purposes, it protects the passengers in the event of a crash, provides a stronger Mustang chassis and enhances the uni body structure to get the most power available for your race car. Watson is proud to provide offer this top of the line custom fabricated bolt in roll cage that is second to none.
---
Watson Racing – Additional Race Services – Drag Race & Road Race
Roll cage fabrication
4-link fabrication
Track support / Race prep
Engine upgrades
Cobra Jet & Boss 302S / Boss 302R service & parts
Custom headers & custom exhaust
S550 2015 Mustang Race Parts Coming Soon!
For many years, the Watson family played a significant role in shaping Detroit's racing history from behind the scenes. Watson is proud to offer its products, services, and expertise to the public. If you want top of the line drag or road race car experts and need some assistance with your race vehicle, call your local Mustang racing parts experts at Watson Racing! Watson Racing's goal is to offer parts and services to everyone from hardcore racers to folks who just want their street vehicles set up properly or for the occasional weekend racer. If you have any feedback please email us at, sales@watsonracing.com.
---
855.WAT.RACE  |  855.928.7223
---
18703 DIX-TOLEDO HWY BROWNSTOWN, MI 48193
PHONE: 734.759.0555 | FAX: 734.759.0025