Quicker Picker Upper – 8.7 second Mustang S550 IRS Street/Strip Racer
Watson Racing rips off a pair of 8.70 passes in its IRS-equipped Mustang S550 at Milan in 2015.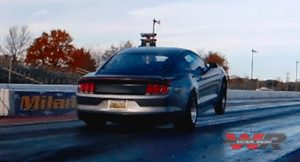 By Steve Turner
Photos courtesy of Watson Racing
Watson Racing's 2015 street/strip Mustang S550 project, run the first 8-second e.t.'s in an S550 with an independent rear suspension. However, the company wasn't satisfied with those runs. That's right, Chuck Watson Sr. was able to improve upon his 8.90-second passes by a full two-tenths. Due to the fact, that this time he was running at nearby Milan Dragway and the conditions were quite favorable.
Did you ever think you would see a 2015+ Mustang S550 hook this hard with an independent rear suspension and drag radials?
Chuck Watson Sr. cut impressive 1.24-second 60-foot times in his street/strip 'Stang at Milan Dragway. SVT Performance has been following the progress of this car since the project began before last year's SEMA Show. This included the additions of a Whipple supercharger, FAST EFI, lightweight windows, a bolt-in 9-inch IRS, and a 10-rib blower drive. On the eve of this year's show in Las Vegas, the Watson team made two more test passes and the car ran even quicker.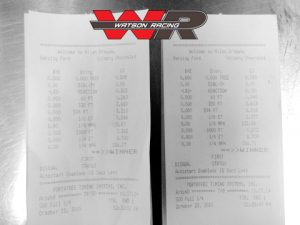 "The 8.70 passes were achieved with a slight calibration adjustment and good air," John Phillips, Product Manager at Watson Racing, explained. "…Still through mufflers and on drag radials. The track was obviously hooking by how much we're hanging the tires."
You can watch the Watson Racing S550 Mustang hang the hoops at Milan right here linked to our YouTube Page >>
8.7 SECOND S550 MUSTANG IRS
Watson Racing's 2015 Mustang S550 project ran with bracket-like consistency. Because in its latest two test passes, running back-to-back 8.70s at 156 mph! However, running this quick through a full exhaust on street tires, the Whipple-supercharged machine is clearly impressive. What's even more impressive is that there are likely even quicker times in the offing.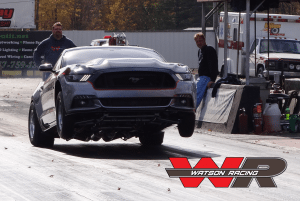 Finally, a quote from the Watson Racing S550 Mustang Product Manager. "This was a quick last test session for the year before we get it cleaned up to take to the show," John added. "There is definitely more in it. A .50 or .60 would have been achieved if the Watson Racing Team stayed out a little longer. We just ran out of time."