Customer/Driver:
Brad Gusler
From:
Big Island, Virginia
Car:
S550 Mustang
Brad Gusler 2015 Mustang S550 – Project Summary:
Record-holding Fastest Eco-boost to date on the drag strip. 10.911 ET. Brad runs in NMRA Super Stang class. Watson Racing built the Chassis. Check out Watson Racing Build – Fastest EcoBoost Mustang in the World! >>
LATEST FEATURE: FIRST 10 SECOND ECOBOOST MUSTANG
Brad Gusler of BG Racing runs the first 10-second pass in an EcoBoost S550 Mustang
It was only a matter of time before an EcoBoost Mustang broke through the 10-second barrier. The odds-on favorite to set this record was Brad Gusler of BG Racing. He put the Mustang world on notice back in March of 2015 when he clicked off an 11.19 at 119 mph. It's taken a lot of work and refining of the combination, but on October 14, 2015, Brad and his Mustang broke into the 10-second zone—three times in a row!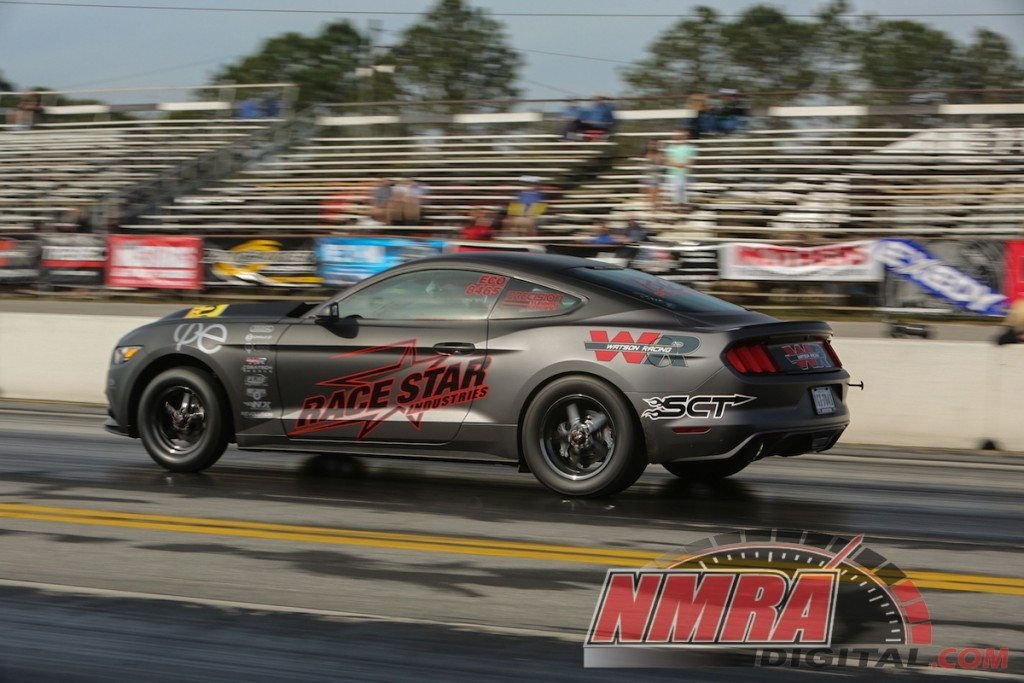 ---
( PREVIOUS ARTICLES ) …
BRAD GUSLER NOW SHOOTING FOR 10'S
Some of the "Watson Racing" Components on the car:
Watson Racing Fuel cell tie-down
Watson Racing driveshaft safety loop
K-member: Watson Racing tubular w/ Watson Racing solid engine mounts
A-arms: Watson Racing tubular
Brakes: Watson Racing stainless steel brake lines
Setting the Bar High: Brad Gusler has driven the fastest trucks in NMRA, so at first, jumping behind the wheel of a four-cylinder 2015 Mustang might not have seemed all that appealing… READ MORE >>