2014 Ford Racing BOSS 302S Build Is Underway At Watson Racing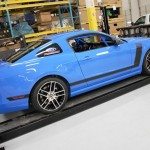 Currently Watson Racing is in the middle of the 50-unit 2014 BOSS 302S Build – and Ford Racing was kind enough to show us a couple of photos of the process. Enjoy!
---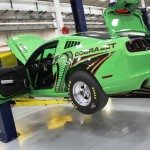 Watson Racing was already responsible for roll-cage installation, receiving the body-in-white cars from the plant, installing the cages, then trucking them back to Flat Rock for the final touches of powertrain installation and modification before they received their sticker package and were readied for delivery.
But as Watson Racing was already handling the Ford Racing Boss 302S builds for road racing, it made sense to shift the Cobra Jet production to their immense facility in Brownstown, Michigan, just a stone's throw from the Auto Alliance plant, and they've begun the build process on the brand-new 2014 Cobra Jet – of which 50 cars will be produced.
[ READ FULL STORY HERE – NOV. 24, 2013 ] by Jason Reiss – STANG TV

2014 Boss 302S Build underway at Ford Racing / Watson Racing. Color updates for 2014 include Grabber Blue & Flat Black
As a result of the success of the 2012 and 2013 Boss 302S, Ford Racing will be offering a 2014 Model Year race-prepared Mustang Boss 302S. Ford Racing Mustang Boss 302S is a factory-built race car, ready for track days and road racing in a number of SCCA and NASA classes. Minor modifications are required to meet different requirements for each series.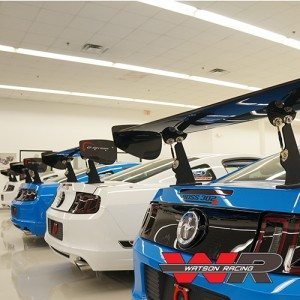 2014 Mustang Boss 302S body color choices:
Oxford White
Grabber Blue
Satin Black (Option)
Recaro XL driver's seat
2014 Build limited to 50 units
Off-road/track use only (VIN replaced by serial number)
Since reintroduction in 2011 the Boss 302S has won the following accolades:
World Challenge GTS Manufacturers Championship
World Challenge GTS Driver Championship
World Challenge GTS Team Championship
NASA American Iron Championship
NASA ST2 Championship
In 2011, the Boss 302S tied the record set in 1970 for race wins by the same Mustang driver in a professional production based series at 5 wins.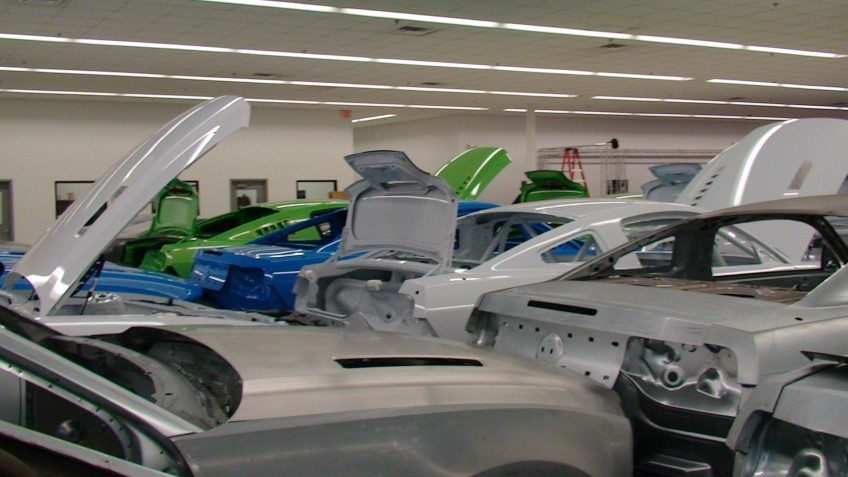 2014 Specifications (Directional):
Engine
5.0L TiVCT Boss engine with racing calibration
Engine oil cooler
FR serialized intake badge
Boss 302 fuel system
Upgraded cooling system
Driveline
T-6060 6 speed transmission with integrated cooling pump
3.73 SRA with Torsen T2R Differential
FR1 Muffler
Chassis
Front: coil over struts
Front lower control arms with extended ball joint and delrin bushing kit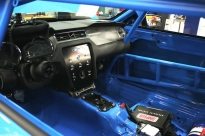 FR adjustable front swaybar
Caster/Camber plates
Rear: coil over shocks
Tubular lower control arms with spherical bearings
FR Swaybar
EPAS with unique Ford Racing calibration
FIA Spec 6 point roll cage
Dynamic 3 way adjustable dampers
Wheels Front 9″ x 19″ M-1007-DC199LGB; Rear 10″ x 19″ M-1007-DC1910LGB
Electrical
Lightened FR wiring harness
AMB Transponder
Switch plate – Start/ignition, aux switches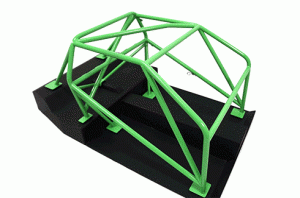 Interior
AIM data acquisition system with GPS
Recaro HANS Pro Racer seat
Fire system with 2 nozzles
Quick release racing steering wheel
Window net
Safety system triangle nets
6 point racing harness
Master cut off switch
Exterior
Color: TBD
FR front splitter
Rear adjustable CF wing
Unique fiberglass hood with air extractors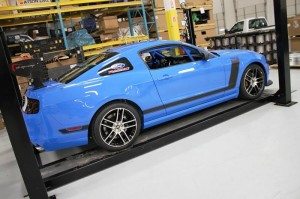 Hood pins
Boss 302S graphics package
Front and Rear Tow Hooks
Brakes
Lightweight Brembo 4 piston brakes
Brake rotor sizes increased to 380mm front and 350mm rear
PFC racing pads
Brake duct kit
Stainless steel brake lines
FR brake booster assembly
Unique FR ABS calibration