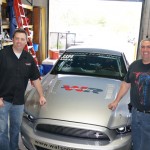 Our friends at Muscle Mustangs & Fast Fords feature story on Watson Racing / Chris Holbrook sponsorship Again, I can't express how proud we are to be associated with Chris Holbrook and Holbrook Racing Engines.
Our next outing will be at Norwalk on July 4th weekend at the Summit Racing NHRA Nationals.
Chris Holbrook Shattering Records in His 2013 Mustang Cobra Jet
–  Muscle Mustangs & Fast Fords 
Watson Engineering Sponsored Car Breaks 160 MPH Mark
June 07, 2013
Records are being smashed this season by Michigan drag racer Chris Holbrook and his Varsity Ford dealership-sponsored 2013 Ford Mustang Cobra Jet. Holbrook recorded an 8.504-second quarter mile at 160.68 mph during the 2013 season-opening NMRA event in Bradenton, Florida. Holbrook's run was a quarter-second faster than any run made by any factory production vehicle, and he became the first driver to break the 160 mph mark in a stock drag racing car.
Just a week after dominating Bradenton, Holbrook made his way to the NHRA Amalie Oil Gatornationals in Gainesville, Florida, and took home the AAA/SA class championship with an 8.68 second run in the quarter-mile. That elapsed time was the quickest in history for the NHRA's Stock Eliminator division. Another proud moment for Holbrook, who is also the owner of Holbrook Racing Engines, surfaced when two HRE-equipped customers battled it out for the title. Bo Butner, another World Champ, defeated Charley Downing in the finals — a race between two Cobra Jets personally prepped by Holbrook.
Just a month later Holbrook attended the NHRA Lucas Oil Drag Racing Series in Clermont, Indiana, where he dominated once again, breaking the NHRA Stock Eliminator record he had just set at the Gatornationals by grasping an 8.58-second run at 158.33 mph over the weekend. While the event was eventually postponed due to weather, Chris was on cloud nine with how the season was unfolding.
In addition to all the good news on the track, Holbrook has also recently scored a win off of it with the recent announcement of sponsorship by Watson Racing of Brownstown Township, Michigan, a company that works closely with Ford in producing the Cobra Jets and making them available through Ford Racing.
"It's hard to describe the importance of this sponsorship," said Holbrook. "Watson Racing is the new division of Watson Engineering, a massive corporation with some of the most brilliant technical minds on their staff. They're a global company which designs and builds an incredible array of products for hundreds of applications. Now, with Watson Racing developing their brand of competition components and offering their services, there's no telling the advances we can make with the Mustang Cobra Jet. The other great aspect of this new sponsorship is the fact I have a personal relationship with the people involved".
Holbrook had strong family ties with the founders of Watson Racing and was introduced to the sport as a baby by his late father, Carl. Carl Holbrook, who spent decades of shattering drag racing records and claiming National victories himself, maintained a long-standing relationship with Ford. The start of Carl's racing career began in 1963 where he befriended Chuck Watson, Sr., who founded Watson Engineering and now Watson Racing, which is operated by Chuck Sr. and his son, Chuck II.
With the help of Watson Engineering, these cars became even more insane and showed what they were capable of at the NHRA new Factory Stock Showdown category, which debuted back in September of 2012. Just recently, the secrets of the CJ have been released to the public, giving racers access to inside racing knowledge.
"My family has been close with the Watson family for most of my life," said Holbrook. "For decades, the Watsons have played a huge role in Detroit area racing and their support is still evident all over the area. Their facility is located only two thousand feet north of the starting line of the legendary Detroit Dragway on the Dix-Toledo Highway!"
For decades, the Watsons have played a huge role in Detroit area racing and their support is still evident all over the area. Muscle Mustangs & Fast Fords
"We fabricate the roll cages for the Cobra Jets and assist Ford with the unique chassis parts needed for the construction of the Cobra Jet," explained John Phillips, the Business Development Manager for Watson Racing. "We work very closely with the engineers at the Ford Motor Company's Flat Rock (Michigan) plant, who build the body assemblies, chassis sub-assemblies and painted the cars. Watson also supplies many parts used to build the Ford Mustang Boss 302S and 302R models used in road racing competition. Therefore, we have a broad range of talent in our shop." It is that talent with which the new Watson Racing enterprise will serve far more than just Ford customers.
"We are designing our brand of products in cooperation with Ford Racing and we are an official Ford Racing Performance Parts dealer," continued Phillips, "But Watson Racing offers nearly every aspect of vehicle services for almost every application. We build cars from the ground up beginning with chassis construction. We produce our line of chassis and suspension components. We build and install roll cages and safety systems. We offer chassis tuning services, and we've expanded our site to include a new DynoJet chassis dynamometer. Our goal is to offer parts and services to everybody from the hardcore racers to folks who just want their street vehicles set up properly. Also, we're readily available from our e-commerce website center, (watsonracing.com), and our FaceBook page, (watsonracingllc)."
Watson graphics now grace the hood of Holbrook's '13 Cobra Jet.
Holbrook continues, "Watson Racing knows everything about my Mustang Cobra Jet. Between their understanding of the vehicle and my ability to get over one thousand horsepower from the new supercharged 5.0-liter Coyote engine, the knowledge we can share will result in even more incredible performance. Of course, my silver Mustang will still be sponsored by Lou Stanford and the Varsity Ford dealership in Ann Arbor, Michigan, but, with the addition of Watson Racing to the team, this is a win-win-win situation for all of us. After all, we're all in this to WIN!"
Now Watson-sponsored, the Varsity Ford/Watson Cobra Jet made its debut at the NHRA Lucas Oil Drag Racing Series at Summit Racing Equipment Motorsports Park in Norwalk, Ohio, sporting some fresh new graphics. Again, the racing Mustang took home the cash and win as the quickest and fastest car to grace the grounds. Next up is Old Bridge Township Raceway in Englishtown, New Jersey. More records are likely to be broken.
Read full article Muscle Mustangs & Fast Fords: https://www.musclemustangfastfords.com/features/1306_chris_holbrook_shattering_records_in_2013_cobra_jet/#ixzz2bU9KS7KV