Street/Strip Stallion
Watson Racing preps a straight-line superstar for The SEMA Show
By Steve Turner
Photos courtesy of Watson Racing
Without a doubt, the leading contender for The SEMA Show's Hottest Car award next week is the 2015 Mustang. As you read this, aftermarket companies across the country have finished or are finishing custom S550s for the aftermarket's biggest show. We are bound to see a lot of flashy rides on the show floor, but one that will make a statement at SEMA and on the racing circuit next year is the creation of Watson Racing in Brownstown Township, Michigan.
If you don't follow Mustang racing closely, the Watson name might not immediately resonate with you, but rest assured they have been at the forefront of this racing scene since the heyday of the Fox. From creating the late Steve Grebeck's legendary SAAC drag 'Stang to building one of the first supercharged, Four-Valve modular race cars (before Terminators existed), Watson has been there. These days the company is at the forefront of S550 racing development.
"Watson Racing is a division of Watson Engineering, which has been in business since 1981 as a Tier 1 supplier of all types of fabricated and tubular products. Watson is owned and run by car and racing enthusiasts. Our relationship with Ford Performance Racing dates back to 1985. This relationship continues right up to today with the Cobra Jet and Boss 302S builds, as well as numerous products in the Ford Racing catalog. Collectively, about two years ago, we decided to try our hand in the aftermarket parts business," John Phillips, Watson Racing Products Manager, explained. "We felt there was a need for a product line of high-quality race parts for late-model mustangs. We launched the brand last January, and we've had phenomenal success in just this short time. Our product line is primarily focused on late model Mustang race cars but we are developing into the street car market with the introduction of our S197 four-point bolt-in roll bar, we can't keep these on the shelf!"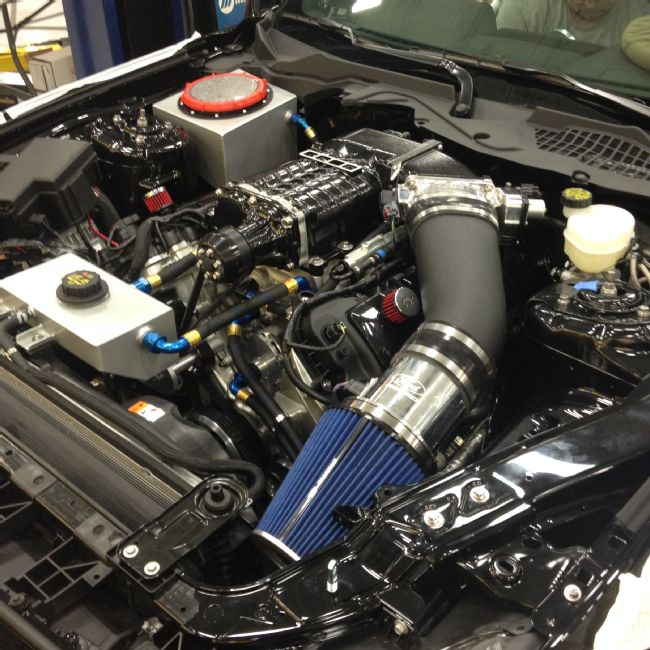 With a push into the aftermarket world, it's only natural that the Watson team would sign on to re-create a 2015 Mustang for the big show. While many cars are built to cut through the noise on the show floor with flash, the Watson S550 is brimming with substance. It is this serious level of performance that will allow this GT to fit in at the show and run hard at the track.
"We decided to go with a pretty serious street/strip car. It was built with the intent of transitioning to a full race car at some point—with serious weight reduction and safety features, such as a welded in six-point roll bar as well as well as a proper lightweight tubular K-member front suspension," John said. "The car as it sits should be a mid-9-second car but it will be forever evolving, pushing the limits of a street car. Next year's race season should be interesting…"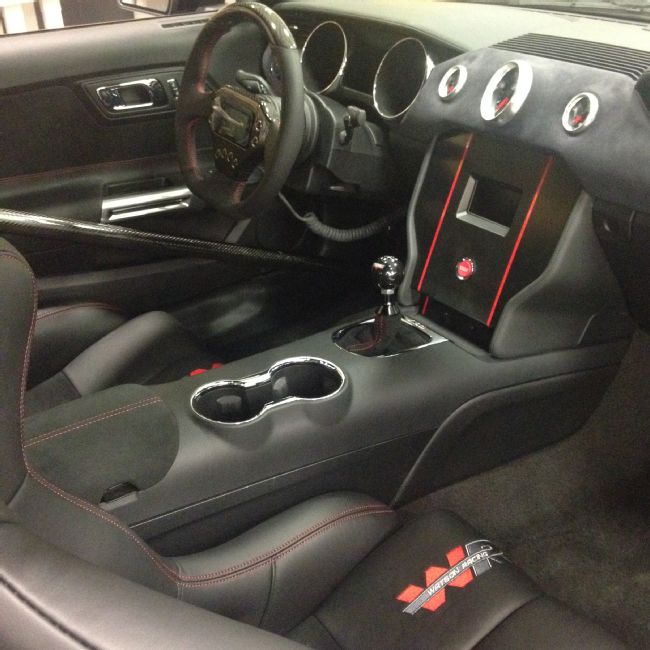 Likewise, many projects make a big splash in Vegas only to fade away as the show's echo fades into the holidays. That certainly won't be the case for the Watson Racing 2015. Not only will this car tour the show circuit, it will compete on the quarter mile at the highest level.
"The plan for the car is to show at SEMA, then onto PRI Show in our Watson Racing booth. After PRI we will go through the car and make sure it's ready to hit the strip in the spring and most likely debut at the NMRA season opener in Bradenton, Florida, in either Coyote Modified or True Street," John elaborated. "We will follow the NMRA schedule as well as some NHRA races. The car will also hit some of the local and national events like the Carlisle Ford Nationals, Mustang Memories, Mustang Week, and Mid-America in Tulsa, Oklahoma."
Wouldn't it be cool to see this beauty run in Coyote Modified? For now, however, let's take a look behind the scenes of its creation. As you can see, Watson Racing tore this 2015 Mustang GT down to a shell and built it back into a race-ready machine. The craftsmanship is stellar, and it should be fun to see it run down the 1,320.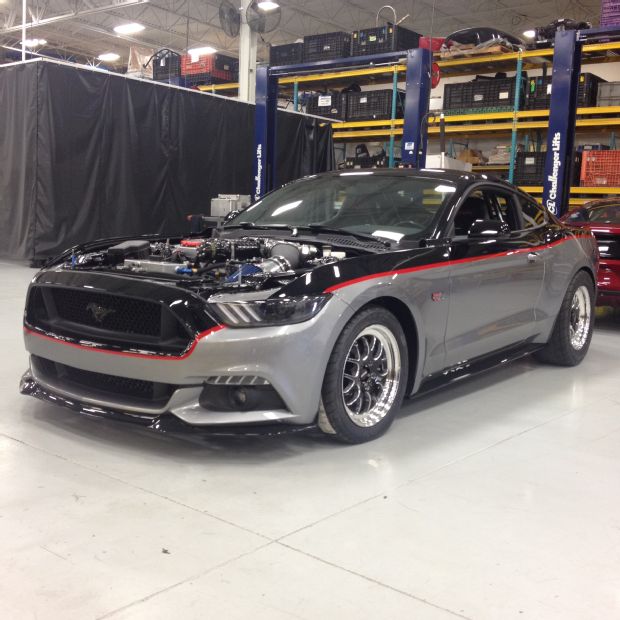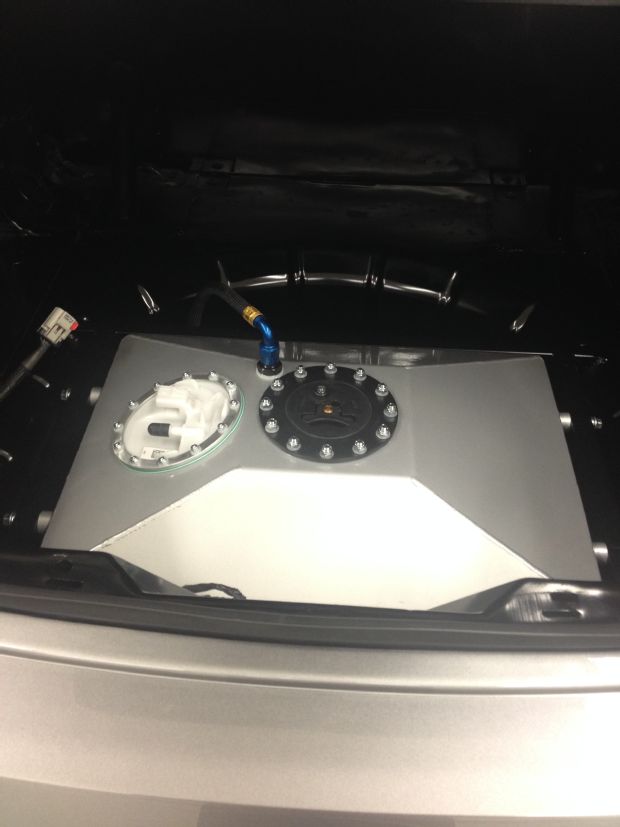 The Mod List
Powertrain
• Ford Racing Supercharger
• Ford Racing cam set
• Ford Racing Throttle body
• Ford Racing Mass air meter
• Tremec Magnum XL six-speed transmission
• American Racing Headers long tube headers
• American Racing Headers X-pipe
• Pypes electronic exhaust cut-outs
• Magnaflow mufflers
• Dynotech one-piece, lightweight driveshaft
• Centerforce clutch assembly
• Watson Racing 10-gallon fuel cell
• Optima Yellow Top battery
• C&R heat exchanger
• Watson Racing intercooler reservoir
• Watson Racing overflow tank
Chassis & Suspension
• Watson Racing lightweight K-member
• Watson Racing driveshaft loop
• Watson Racing lightweight, tubular bumpers, front and rear
• Strange race suspension 
• Strange lightweight brakes
• Watson Racing stainless brake-line kit
• Hurst line lock
• Wilwood proportioning valve
• Ford Racing heavy-duty IRS bushings
• Ford Racing heavy-duty halfshafts
• Watson Racing trunk-mount battery kit
• Moroso/Watson Racing push/pull master kill switch
Wheels & Tires
• Weld Racing RT-S, 17×4.7-inch front and 17×9.5-inch rear 
• M&H Racemaster drag radials, 28/4.5-17 front and 325/45-17 rear
Exterior
• Custom paint and body by Ice Nine Customs
• MVS/Watson Racing carbon fiber 3-inch cowl hood 
• Watson Racing hood strut kit
• Watson Racing fuel door charging port
• Ford Racing decklid trim panel
• Aerocatch flush mount hood pins
• Custom LED lighting by The Lighting Firm
Interior
• Sparco Evo 3 fixed back race seats
• SPC Interiors custom upholstery
• Teamtech race seat harnesses
• Aim Motorsports GT 350 steering wheel
• Sparco steering wheel quick disconnect
• Watson Racing race seat mounts
• Watson Racing six-point, chrome-moly, weld-in roll cage
• Watson Racing aluminum rear bulkhead closeout panel
• Ford Racing gauges
• Rick Jones carbon fiber roll bar covers