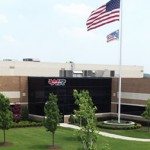 Ford Racing / Mustang Alley hosted an open house event at Watson Racing August 15, 2013 in the Brownstown, Michigan facility.
The open house turned out to be an amazing event.  The day was blessed with perfect weather, over 100 HOT ROD Mustang Show and Race cars and about 300 Mustang / Cobra Jet enthusiasts. The tours started with going thru the 2014 Cobra Jet build! In addition to the tour, Ford Racing and Watson Racing rolled out some of their toys and engineers for a meet and greet to talk everything gear head.
Please enjoy the images and an inside look of Watson Racing!
[nggallery id=5]
Brownstown, Michigan- Watson Racing is proud to be an authorized distributor for the full line of Ford Racing Performance Parts. Since the company's founding 30+ year ago, Watson has worked with Ford Racing designing prototypes for building drag and road race vehicles.
Ford Mustang Racing parts. Road race, Drag Racing, Street car parts. Specialize in Mustangs & Custom Car Builds. Chassis Dyno Tuning services – race track support.
Ford Racing Performance Parts offers a full lineup of performance products including; a variety of V8, V6 and four cylinder crate engines, engine and driveline components, along with suspension, brake and wheel kit upgrades plus accessories for a variety of Ford vehicles.
Watson Racing in Southeast Michigan is a performance aftermarket engineering, customization and sales company that specializes in customized racing parts, complete vehicle builds, Chassis Dyno tuning services, automotive exhaust, styling and performance.