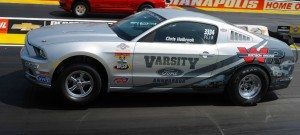 Mustang Cobra Jets had an impressive weekend here at the 60th Anniversary NHRA U.S. Nationals at Lucas Oil Raceway with an all-Cobra Jet powered Super Stock final on Labor Day and a victory in the Factory Stock Showdown on Friday for the third year in a row.
Nick Morris won the Super Stock U.S. Nationals in his 1998 Mustang powered by a 2010 Cobra Jet engine, defeating Gary Richards' 2010 Cobra Jet when Richards red lighted on the start.
"The Cobra Jet engine makes a lot of power and has been extremely reliable," Morris said following his win. "Ford is behind sportsman racers and it show. I wouldn't have anything else."
Jesse Kershaw, Ford Racing Drag Racing Parts and Competition Manager, said, "For Super Stock GT, the Cobra Jet engine program can make older Ford vehicles extremely competitive. It's great to see Nick find the winner's circle with late-model Cobra Jet power."
Chris Holbrook won the Factory Stock Showdown in his Watson Racing 2014 Cobra Jet, becoming the class's first repeat event winner, adding to his 2013 win. The Showdown features head-to-head racing in two classes between the latest race cars from Ford, Dodge and Chevrolet. The winners in each class then race each other in a handicap start for the overall championship.
Holbrook defeated Bruno Massel's 2014 Copo Camaro in the FS/A final, which features supercharged factory engines, then beat Kevin Helm's 2011 Dodge Challenger, with its naturally aspirated V8, in the overall Factory Showdown final, 8.694 seconds/154.19 mph to 9.029/146.93.
"Two years in a row, thanks to my team," Holbrook said. "Driving this car is a bad-to-the-bone experience."
Kershaw said, "When it comes to heads-up racing in Stock and Super Stock, winning class at the U.S. Nationals is the highest honor. Our teams continue to push the envelope and put Ford in the winner's circle with their Cobra Jets.
"This was the largest and most competitive field we've seen in the Factory Stock Showdown making a Cobra Jet victory that much sweeter," Kershaw continued. "This win is a tribute to the hard work and dedication Chris has given the Cobra Jet program."
Of the 128 cars that qualified in the Stock and Super Stock classes at the U.S. Nationals, 14 of the top 37 were Cobra Jets.  Eight Cobra Jets Dominate and took home class trophies, including:
Drew Skillman, 2012 Cobra Jet, AA/SA, Ray Skillman Ford, Axalta, Valvoline Max Life
Joe Shipp, 2012 Cobra Jet, AAA/SA, Ray Skillman Ford, Axalta, Valvoline Max Life
Charles Downing, 2010 Cobra Jet, G/S, Downing Farms
Brad Zaskowski, 2014 Cobra Jet, D/S, Downing Farms
Anthony Bongiovanni, 2008 Cobra Jet, SS/BA, Micro Strategies
Gary Richards, 2010 Cobra Jet, SS/EA, PC Richards and Sons Electronics
Randy Hopkins, 2014 Cobra Jet, SSA/A, Varsity Ford
Brett Candies, 2012 Cobra Jet, SS/BA, Candies Family Racing