One badass 2015 Mustang S550 equally at home on the dragstrip & Show!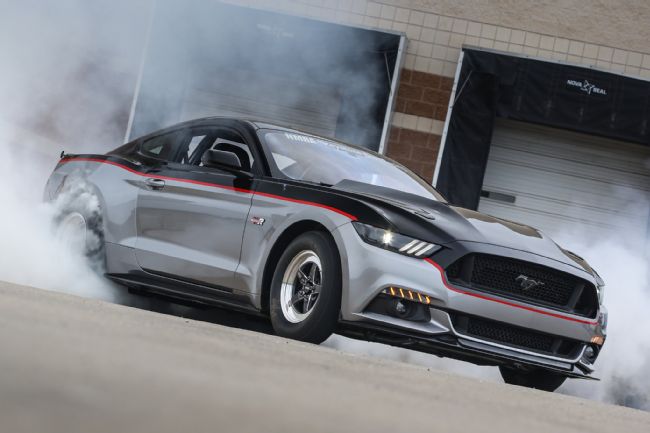 Photo Gallery >> View 2015 Mustang S550 Photo Gallery
Choosing to forego the glitz that is sometimes the hallmark of SEMA cars, the focus was instead on function. To shed some 30 pounds of nose weight, Watson's experienced fabricators engineered a complete TIG-welded tubular K-member and front suspension setup. Into this chromoly cradle they bolted a 5.0L Coyote (built in house) toughened with Oliver rods and Mahle pistons, tweaked with Ford Performance cams, tuned via FAST XFI, and topped with a 2.9L front-inlet, twin-screw supercharger. Through a Tremec Magnum XL six-speed, the combo sends a "conservative" 927 hp and 702 lb-ft to the rear wheels.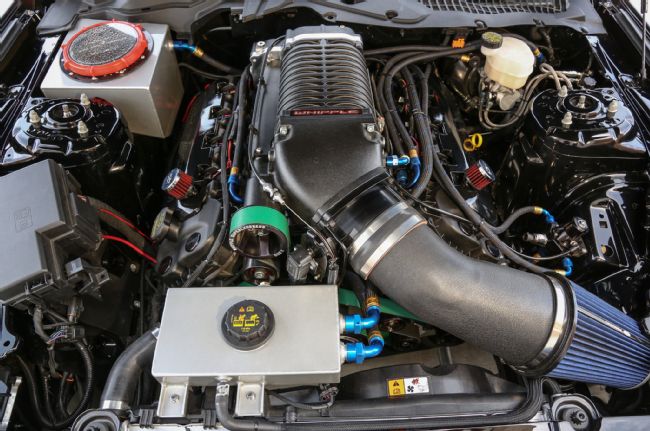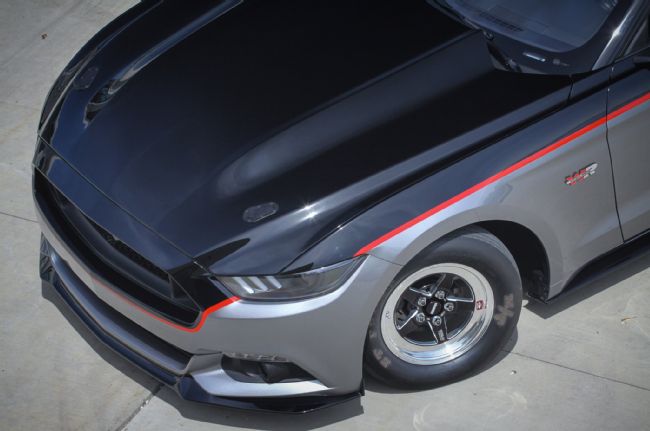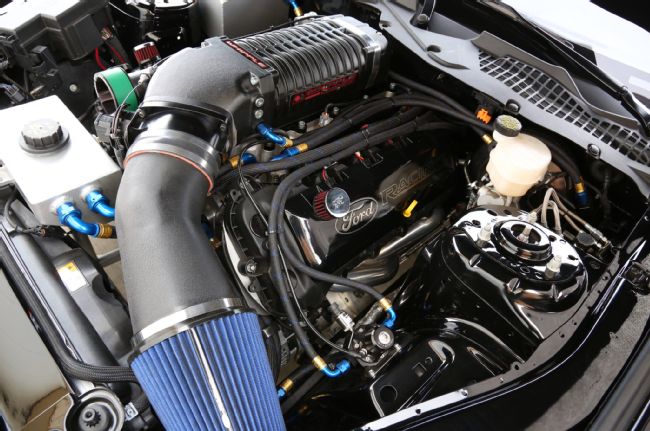 In order to mount those particular rear wheels—which, in true drag tradition, are only 15 inches in diameter—Watson's guys placed Wilwood disc brakes inboard within an all-new tubular subframe supporting a fabricated 9-inch centersection. As was the case on the front suspension, much time was spent configuring the tubular control arms for proper camber geometry under bump and rebound. For those of you who have S550 dragstrip plans of their own, Watson plans to offer both these front and rear tubular assemblies.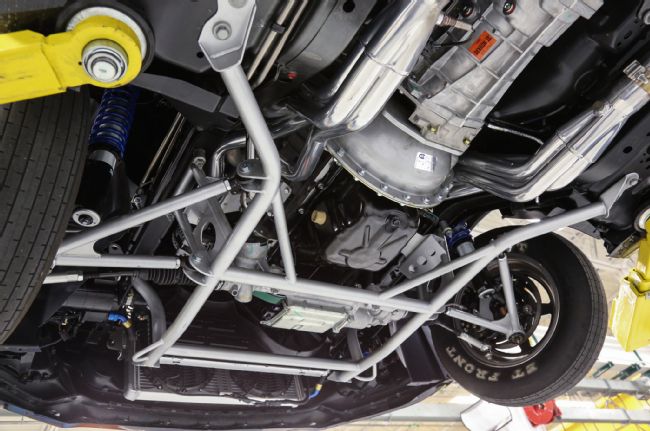 Watson engineered and fabricated this complete tubular K-member/suspension package as part of the car's weight-loss program. It's now sold through the Watson Racing website.
While much of the build was focused on getting the fastback as light as reasonably possible (it now weighs less than 3,300 pounds), the custom leather and suede interior performs show duties in stylish fashion. Still, this is a race car at heart, and the cabin is accordingly equipped with Watson's own weld-in, six-point cage, Sparco Evo 3 race buckets trimmed with Teamtech harnesses, and one of the wildest (and no doubt priciest) steering wheels ever seen in a Mustang. The quick-disconnect wheel—interestingly named a GT 350—comes from AiM in Italy. It is outfitted with not only a center-hub data display surrounded by a slew of multifunction buttons but also with a multihued shift light array tucked into the top rim. This thing is high-tech art wrapped in leather.
2015 Mustang S550 Photo Gallery >>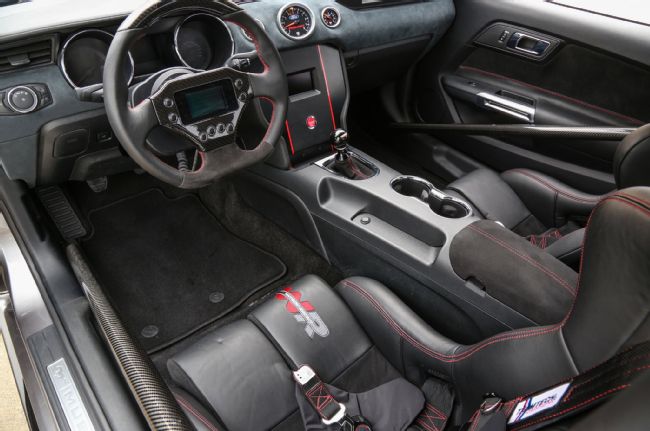 Another trick cabin embellishment is the sanitized center stack—now missing all its factory HVAC/entertainment hardware and occupied only by a start button, and topped with a custom-fit trio of Ford racing gauges angled towards the driver and surrounded in Alcantara.
At this point we would love to wow you with some kick-butt time slips, but between the long Michigan winter and the travel demands of show/event appearances, strip time has been almost nonexistent. Also, the fastback's couple of shakedown runs to date have encountered the usual new-car gremlins. Our photo should be clear evidence, however, that this SEMA star has no problem smokin' the slicks. There is no plan, or time, to campaign the car in any particular race series; instead, Watson will use it as a research and development test bed for more S550-related street/strip hardware. Check out our table for a full list of specs.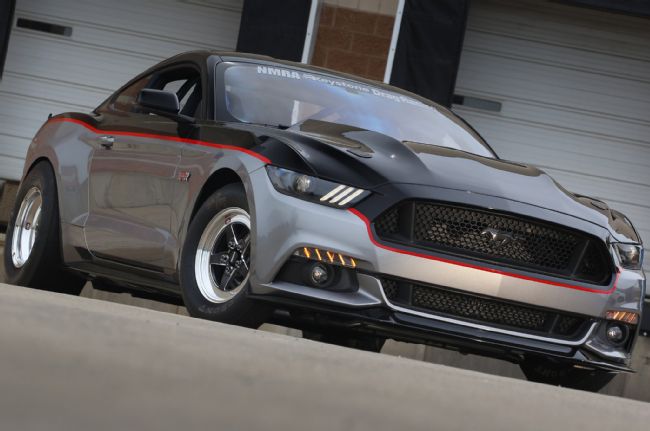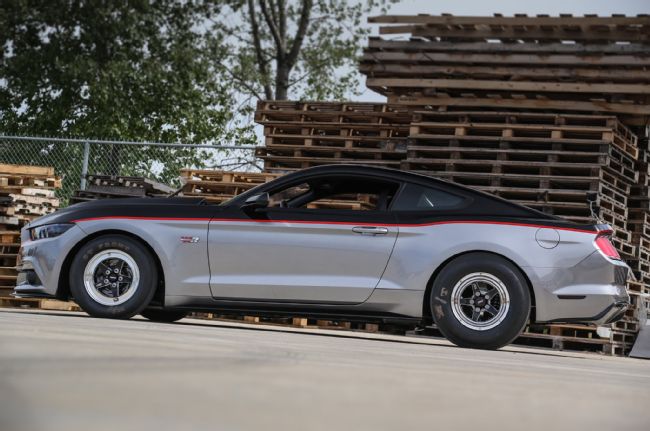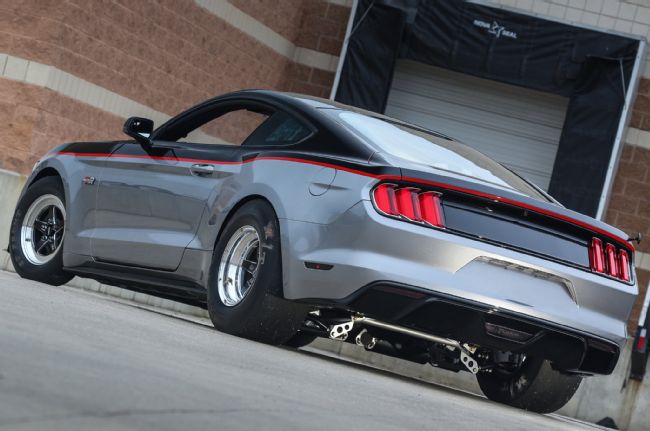 All the Details
Powertrain
Watson-built 5.0L Coyote, Oliver rods, Mahle pistons
Meziere electric water pump & intercooler pump
2.9L front-entry supercharger
10-rib belt drive system
132mm elliptical billet throttle body, 2,000-cfm, converted to mechanical
Ford Racing cam set
Tremec Magnum XL six-speed transmission
McLeod RXT Clutch
American Racing Headers long tube headers
American Racing Headers X-pipe
Pypes electronic exhaust cut-outs, Magnaflow mufflers with custom Watson-made side-exit exhaust
Dynotech one-piece driveshaft
Watson Racing 10-gal. fuel cell with FORE triple fuel pump
Optima YellowTop battery, trunk mounted
Moroso/Watson Racing push/pull master kill switch
C&R heat exchanger
Watson Racing intercooler reservoir
Watson Racing overflow/degas tank
FAST XFI stand-alone ECU
Chassis & Suspension
Watson Racing lightweight tubular chromoly front K-member/suspension
Watson Racing driveshaft loop
Watson Racing lightweight tubular chromoly rear IRS system: subframe, A-arms, 9-inch fabricated centersection, inboard Wilwood brakes
Watson Racing lightweight tubular bumpers, front and rear
Strange drag race double-adjustable coilovers, custom-valving
Strange lightweight front drag race brakes
Watson Racing stainless brake line kit
Hurst line lock
Wilwood proportioning valve
Extreme chassis lightening by Watson Racing; car weighs approx. 3,200-3,300 lb fully loaded
Wheels & Tires
Weld Racing RT-S "S71" wheels, 15×4 front and 15×10 3/8 rear
Tires: 26-inch front, 26×10.5 rear Mickey Thompson slicks or drag radials (street)
Exterior
Custom paint and body by Ice Nine Customs
MVS/Watson Racing 100 percent carbon fiber 3-inch cowl hood
Aerocatch flush mount hood pins
Watson Racing fuel door charging port
Ford Racing decklid trim panel
Painted lower body plastics; filled exhaust holes
Optic Armor lightweight polycarbonate front and rear windows
Custom headlights and LED marker lights, by The Lighting Firm
Billet aluminum "Watson Racing" fender badges
Interior
Sparco Evo 3 fixed-back race seats
SPC Interiors custom leather and suede upholstery
Teamtech race seat harnesses
Aim Motorsports GT 350 digital data acquisition steering wheel with shift lights
Sparco steering wheel quick-disconnect
Watson Racing race seat mounts
Watson Racing six-point, chromoly, weld-in rollcage
Watson Racing center-stack delete with pushbutton start
Watson Racing aluminum rear bulkhead closeout panel
Ford Racing gauges
Rick Jones carbon fiber rollbar covers